Different Types of Brush Making Machines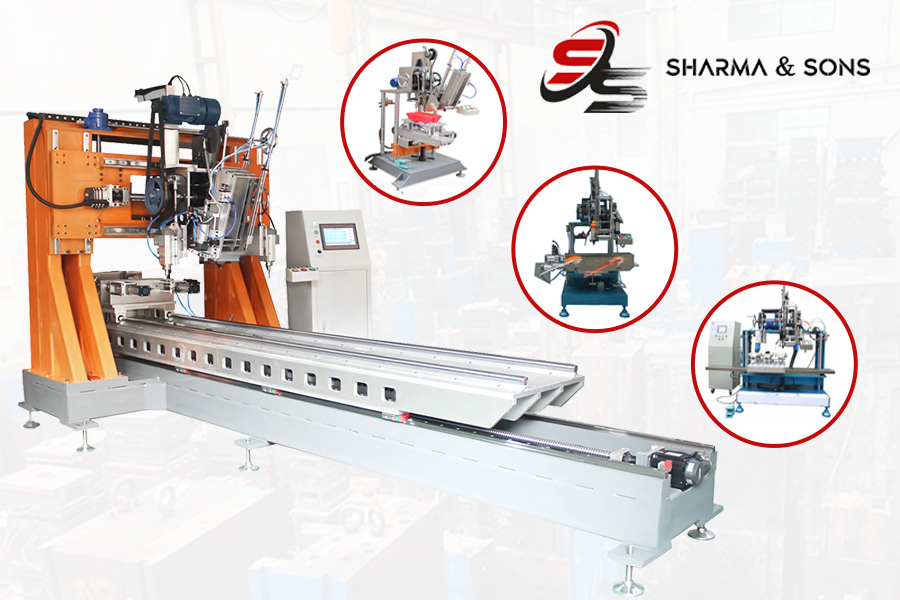 Different Types of Brush Making Machines
Nowadays, there is a booming demand for brush-making machines. With their growing popularity among various industries, looking for the best machines is of utmost importance. Your search for the best manufacturing team for these machines now comes to an end, thanks to our team from Sharma & Sons. We are offering the best brush solution you have ever laid your eyes on.
Being a leading professional company for all brush machines, we have been engaged in research and development for so many years now. Our main goal is to develop the best product machines that come in handy with the latest technology.
Major technical database:
We have a growing technical database, which has been around since the inception of our company. That makes us one of the leading names in the manufacturing field. We have an in-house team, comprising technical professionals and engineers to offer our clients premium ranges of brush machines.
Being associated with brush-making machines for such a long time, we have generated and created multiple types of brush-making machines. The differences will help in covering the maximum crowd at the same time and focus on their flexible needs. So, before you proceed further, we would like you to get the detailed information regarding the types of machines we have in store.
2 Axis Brush Tufting Machine:
Available in brand new condition and with the automatic grade, our 2 Axis Brush Tufting Machine is one to watch out for. It has the capability to produce around 2500 pieces in one go.
3 Axis Brush Tufting Machine:
If you are planning to create brushed with curved surfaces, then 3 Axis Brush Tufting Machine might be the right option to get from our side. There are plastic brush pieces, which are to be moulded in advance within the available holes. These holes are now vertical to the surface at around 90 degrees and they cannot be tilted at any other angle. The generic brush size is around 350mmx 180mmx 360 degrees. However, we can customize some of the other sizes as per the requirement through our 3 Axis Brush Tufting Machine models. 
There are mainly two grippers available holding two brushes on the work table. Under its automatic mode, it has the power to tuff brushes continuously in a non-stop manner.
4 Axis Brush Tufting Machine:
5 Axis Brush Tufting Machine:
We have specially designed 5 Axis Brush Tufting Machine for you, which is used to tuff brushes with the help of stainless steel wires. It is always recommended that the plastic brush pieces need to be molded with holes before getting into the machine. On the other hand, the wooden brushes also need to be pre-drilled with holes in them.
The best Drilling And Tufting Brush Machine at your service:
We have the best Drilling And Tufting Brush Machine in store for you, which has been a result of years of research from our side. The machine consists of a main motor, which is straightly procured from Italy and known for its high working head speed. Then you have a premium quality precision filament box, known to offer reliable and stable performance throughout.
So, next time you are looking for one such brush-making machine, focusing on us at Sharma & Sons will be a great note to consider.